During my Ph.D. studies at Uppsala University, I acquired and published three texture datasets, I have had requests on hosting these datasets on additional locations other than the university server (address http://cb.uu.se/~gustaf/). Here is an overview: link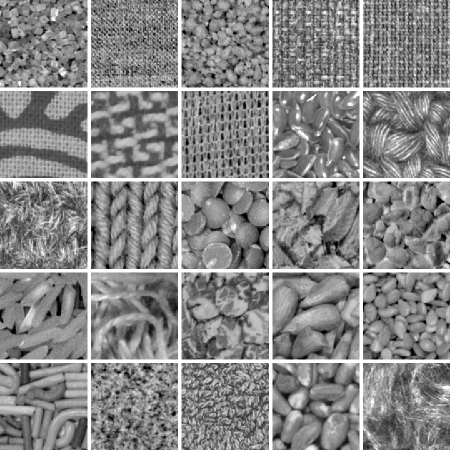 Short description
25 texture classes, see Figure 1.
100 samples per texture class.
Samples are 122×122 pixels in size.
The textures has been rotated using hardware and rotated by interpolation using, nearest neighbour, linear, 3rd order cubic, B-spline, and Lanczos 3 kernels.
All texture samples are normalized with a mean value of 127 and a standard deviation of 40.
Downloads
https://filedn.com/lkCRue0RhPO7ercIrqFRl2Y/datasets/KylbergSintornRotation/
Kylberg Sintorn Rotation dataset
The compressed files are roughly 240 MB in size each.
Hardware rotated texture samples. [.zip, .7z]
Rotated texture samples using nearest neighbour. [.zip, .7z]
Rotated texture samples using linear interpolation. [.zip, .7z]
Rotated texture samples using 3rd order cubic interpolation. [.zip, .7z]
Rotated texture samples using B-spline interpolation. [.zip, .7z]
Rotated texture samples using Lanczos 3 interpolation. [.zip, .7z]
Original Images
RAW-originals (~6 GB)
PNG-originals (~6 GB)
How to reference
If you use the texture dataset in your research or in any other way, please refer to it as:
Kylberg, G., Sintorn, I. On the influence of interpolation method on rotation invariance in texture recognition. J Image Video Proc.2016, 17 (2016). https://doi.org/10.1186/s13640-016-0117-6