During my Ph.D. studies at Uppsala University, I acquired and published three texture datasets, I have had requests on hosting these datasets on additional locations other than the university server (address http://cb.uu.se/~gustaf/). Here is an overview: link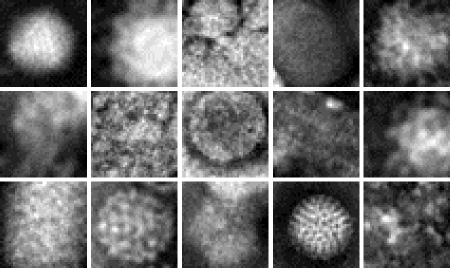 Short description
The dataset is based on transmission electron microscopy (TEM) images of 15 virus types. The texture samples have been automatically extracted from objects segmented using the method described in [1]. The virus texture dataset was first used in [2]. There is no garatee that the classes are fully discriminable. Here follows a short list of dataset properties:
15 texture classes, see Figure 1.
100 unique texture patches per class.
Texture patch size: 41×41 pixels.
File format: Lossless compressed 16 bit PNG.
Files are named as follows: class-003-sample-036.tif, where class-003 is the class number and sample-036 is the sample number.
Downloads
https://filedn.com/lkCRue0RhPO7ercIrqFRl2Y/datasets/VirusTextureDataset/
Texture Dataset
Virus texture dataset (16bit) as .zip (~2.7 MB) or .7z (~2.3 MB). (updated 2013-01-22)
Virus texture dataset, intensities resampled to 8bit, as .zip (~2.2 MB) or .7z (~1.8 MB). (The version online before 2013-01-22)
Text file with class names corresponding to the class numbers used in the image file names: classNames.csv.
Miscellaneous
Indices used in the 10-fold cross-validation procedure in manuscript:
10-fold_cross-validation_indices.csv
Binary mask:
mask.png
Related Publications
Kylberg G., Uppström M., Borgefors G., and Sintorn I.-M. Segmentation of Virus Particle Candidates in Transmission Electron Microscopy Images Journal of Microscopy, 2012, 245: 140-147.
Kylberg G., Uppström M., and Sintorn I.-M. Virus Texture Analysis Using Local Binary Patterns and Radial Density Profiles In Proceedings of the 16th Iberoamerican Congress on Pattern Recognition (CIARP), LNCS-7042, pp. 573-580, Pucón, Chile, November 2011.